About ASHbiz

(Business Chamber for Ashfield, Summer Hill, Haberfield and Parts of Croydon)
ASHbiz Business Chamber provides many services to the local business community. ASHbiz is open to any business in Ashfield, Haberfield, Summer Hill and parts of Croydon.
We provide a conduit for information exchange between council and business. The chamber executive attends quarterly meetings with senior executives of the Inner West Council together with heads of other chambers across the now enlarged council area. We liaise regularly with the Business Relations Coordinators and Economic Development manager at IWC.
The chamber provides opportunities for business networking at quarterly meetings. In partnership with council we provide business workshops a few times a year dealing with topics suggested by our members. We promote economic growth across the region by working with council to deliver a series of food festivals in Summer Hill and Ashfield. This brings thousands of people into our area. We also place an emphasis on encouraging residents to shop local. As part of this shop local campaign we encourage businesses to participate in the Inner West Local Business Awards. The President of the Chamber regularly attends meetings of the Strategic Reference Group (Economic Development). This ensures the new IWC is aware of the needs of business in our area.
ASHbiz is an active member of the Ashfield Community Safety Precinct committee organised by the Crime Prevention manager at Ashfield Police station. This provides the chamber with more networking opportunities as well as keeping abreast of any crimes happening around our business centres.
If we are to get our fair share of funding from the new bigger Inner West Council we need to present a strong vocal and united lobby group to council. This is your Chamber – get involved!
We meet quarterly on the first Monday of the month at 6.30 pm.
Join us at the Ashfield Service Centre, 260 Liverpool Road, Ashfield.
Our meeting dates for 2019 are below.
04 February 2019 (AGM & GM)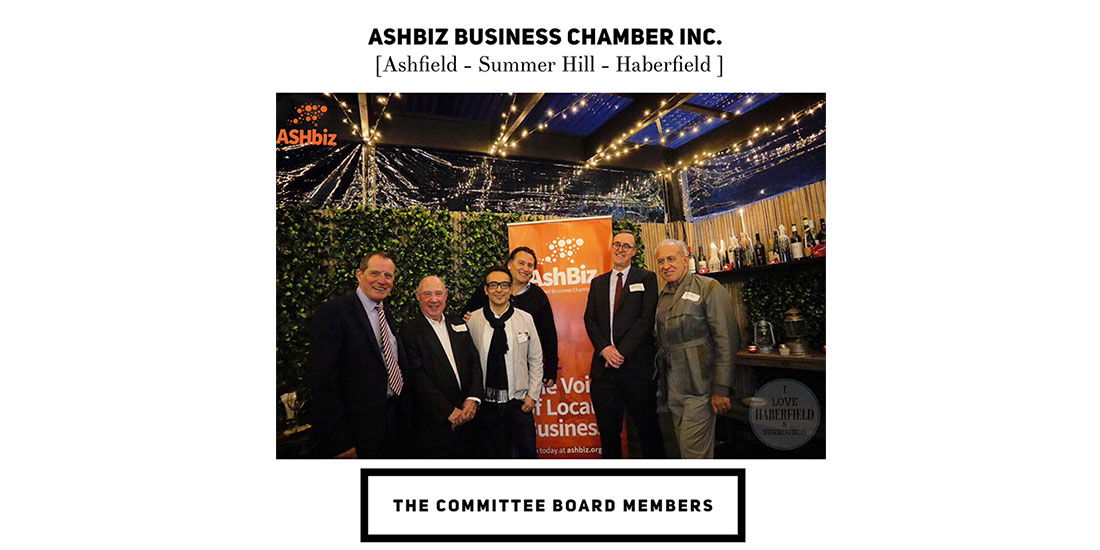 Michael Como
ASHbiz  Treasurer
Director
Como Building P/L
We would like to thank our sponsors for their support